Experience roulette at your home as if you were in a luxurious casino resort! Immersive Roulette is a unique game you can play in BitStarz Casino right now.
Immersive Roulette supports all betting levels
Slow-motion replays after each ball drop
Realistic experience in stunning high definition
Do you think the only way to experience the atmosphere of playing roulette in a casino resort is to actually go to one? That's one of the options you have but it certainly isn't the only one.
If you like the vibe of land-based casinos but you prefer the comfort of your home, you should give Immersive Roulette a try! It's close to a live casino experience as it gets.
This is a unique live roulette game developed by Evolution Gaming and offered by BitStarz online casino. Evolution Gaming is the most popular software developer of live games, which is one of the reasons why this roulette title is a huge success.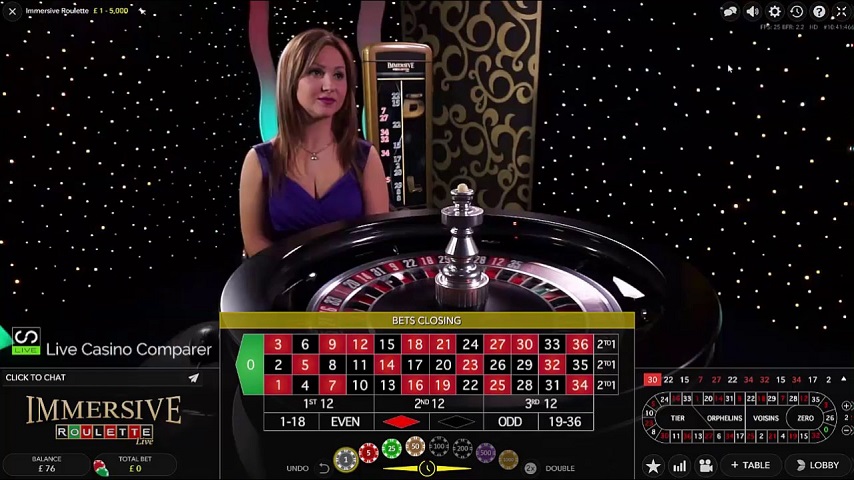 The main trait of Immersive Roulette can be discovered in its name. This is a hyper-realistic game played live, with a real dealer and other players whom you can communicate with in real time.
Let's find out why this game is unique, as well as how and where you can play it!
What Is Immersive Roulette?
Immersive Roulette is a premium-quality roulette game developed by Evolution gaming, suitable both for high-rollers and players on a tight budget. It's a stark opposite to Mini Roulette, a compact variant of this game.
It offers a realistic experience that has not been seen in any other live roulette game. This roulette variant has no problems drawing and mesmerising players from the first spin of the wheel thanks to the graphics and the attention to detail.
The game is based on the French roulette variant, so it has lots of special bets and features that make it more interesting and exciting.
Moreover, one of the main characteristics of Immersive Roulette Live is the fact that there are multiple cameras covering the dealer, the wheel, and the ball. Therefore, you will not find it hard to imagine that you are sitting in front of the dealer and not in front of your computer screen.
How to Play Immersive Roulette?
As we have mentioned, the rules of this game are based on French roulette, which is also very similar to European roulette. Hence, if you have played other live roulette games with the same rules, you will have no problems mastering this one as well.
Basically, the objective of the game is to predict in which pocket the ball will end up after completing its spin around the wheel. There are 37 pockets in total — one zero and 36 pockets numbered from 1 to 36.
The bets are placed at the bottom of the screen where you have a layout of the betting scheme. Here, all you need to do is click on the number or the sequence of numbers you want to bet on and choose the size of your wager.
The minimum bet you can place is €1 and the maximum is €2,000! So you can place small bets or go wild like pro roulette players.
Why is this live roulette game better?
The beauty of Immersive Roulette is that it allows players to adjust the settings, meaning it can suit their personal preferences and playing style.
Take Favourite & Special Bets as an example. This is a feature found in the bottom right corner that allows you to save your favourite bets and access them in a jiffy. Moreover, this is also where some special bets are located, such as Finale en Plein, Finales a Cheval, and Complete Bets.
You can also check the table statistics and find out what the most common winning numbers are. This will help you hone your strategy and choose your bets more wisely.
If one table is not enough for you, Evolution Gaming has included the Add Table option which lets you play at multiple tables at the same time. If you've been wondering how to win at roulette., this is one of the ways, but try your best not to lose focus!
Types of Bets You Can Place
If you decide to give Immersive Roulette Live a try, you will have plenty of bets at your disposal. All of the most popular inside and outside bets are included in the game. These are the ones you can choose from:
Inside Bets
Straight Up
Split Bet
Street Bet
Corner Bet
Line Bet
Outside Bets
Column Bet
Dozen Bet
Red/Black
Even/Odd
1-18/19-36
Apart from these, you can also place a number of Neighbour Bets. To access these, you need to click on a dedicated button and an oval-shaped betting area will appear, showing these wagers:
Tiers du Cylindre
Orphelins a Cheval
Voisins du Zero
Jeu Zero
As we've mentioned above, you can also easily access a selection of special bets, such as Finale en Plein, Finale a Cheval, and Complete Bets.
Overall Gameplay and Design
Overall, the gameplay and design are very good. Evolution Gaming has done a fantastic job while making Immersive Roulette; the result is a live roulette game that looks super-realistic.
Although, the gameplay is filled with various features and options, it doesn't have any bugs or glitches. The engine runs smoothly and the game does not require a lot of resources from your computer.
Furthermore, the high-definition broadcast from the studio, as well as the starry sky behind the dealer are one of the selling points of this game.
It's truly a spectacular roulette variant every connoisseur of roulette should give a try.
Where to Play Immersive Roulette?
Immersive Roulette can be played in a large number of Evolution Gaming casinos. However, one of the best ones can be found at BitStarz Casino.
They are known as a fair operator that offers decent playing conditions and great odds on roulette. Plus, their welcome bonus will put a smile on your face.
In BitStarz, you can enter live roulette tables even without making a deposit, which is a plus as you can see whether you like the game before investing money in it.